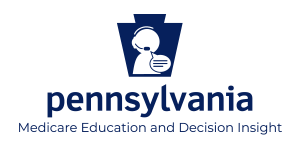 Understand Your Medicare, Medicaid, and Long Term Care Benefits
PA MEDI is a free health insurance counseling program designed to assist Pennsylvanians with Medicare. The Pennsylvania Department of Aging created PA MEDI to help Medicare beneficiaries better understand their health insurance options and make sound decisions about what is best for them. PA MEDI counselors can answer your questions about original Medicare, Medicaid, supplemental insurance, Medicare Advantage Plans, long term care insurance, and Medicare prescription drug plans. Our counselors can:
Help you decide which Medicare health plan is right for you by explaining how each plan works, its benefits, its coverage amounts, and its costs
Help you understand your health insurance benefits by reviewing your Medicare Summary Notice or Explanation of Benefits, which explain what services have been paid for, what you may owe, and what your appeal rights are
Explain various assistance programs that may help pay your Medicare deductibles and Part B premium and assist you with the necessary applications
Explain the Medicare Prescription Drug Benefit (Part D) and the various assistance programs that may help pay the premiums, deductibles and co-pays
If you or a family member needs assistance with Medicare-related issues, please contact the Agency's PA MEDI Local Coordinator at (814) 946-1235, ext. 1016.
PA MEDI: Understanding Medicare Benefits Made Easy
Let's face it: Medicare can be confusing. Enrollees encounter a lot of tough decisions when it comes to choosing the right coverage plan and sorting through all of the different benefit options. The process sometimes feels plastered with red tape and laden with unfamiliar jargon. And who can keep track of all the different policies and benefits for Medicare Parts A, B, and D, let alone all the private supplemental options that are out there? To make matters worse, people face harsh penalties if they fail to register properly, and confused enrollees risk missing out on discounts and financial assistance. Some even end up paying for coverage they don't want or missing out on coverage options that they need.