From Seasons Magazine Spring 2019
Blair Senior Services, Inc. Transportation Department held their annual Safety Training and Awards Meeting on December 10, 2018 at the Central Blair Senior Center in Altoona, PA. Recognitions included a long list of Accident Free Drivers Awards, the 2018 Rex Fahr Customer Service Award, and a special presentation of the Ecolane's Pennsylvania Partner Award to Blair Senior Services, Inc. as Pennsylvania's Transportation Provider of the Year.
According to Dennis Wisor, Blair Senior Services' Transportation Program Manager, the Transportation Department staff had a lot to celebrate this year. "In addition to the employee achievements, receiving Ecolane's Pennsylvania Partner Award is a true honor," shared Wisor. "I believe we have an incredible team who goes beyond the call of service, and exercises great communication across all of our departments, which is one of the reasons why we are one of the lowest cost per trip providers in Pennsylvania."
Safety awards were presented to the Transportation Department's drivers in recognition of their accident free records. According to Wisor, "Our van drivers help to provide worry-free, safe transportation. Our consumers don't have to become isolated because they aren't able to drive themselves or they don't have loved ones that are able to take them where they need to go."
Awardees included:
Vehicle Operators One Year Accident Free: Bill Beck, Kevin Cowan, Kevin Hite, Vickie Killinger, William Kuny, Clark Liebegott, Rick MacIntyre, Raymond Nebelski, Melvin Pfahler, Bill Richard, Jim Settlemyer, and Larry Wagner
Vehicle Operators Two Years Accident Free: Terry Brumbaugh, Pete Bucci, Gregg Bunn, John Butler, Dan Novak, Craig Schaffer, and Clair Servello
Vehicle Operators Three Years Accident Free: CJ Brewbaker, John Scalzi, and Dennis Skorupa
Vehicle Operators Five Years Accident Free: Joe Will
Pete Harter was awarded the 2018 "Rex Fahr Award for Consumer Service" for consistently doing good work every day. According to Wisor, "The Rex Fahr Award was named in memory of the late Rex Fahr, a past Transportation Department driver from June 2013 to January 2016, who was well loved and respected for his exceptional work and personality." Other nominees for the award included Sean Ford, Deb Lee, and Robbin Snively.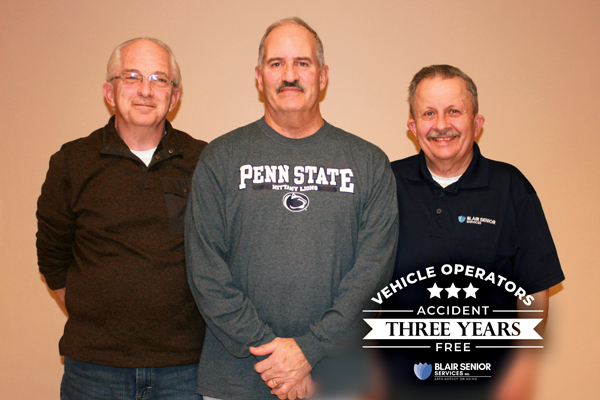 Blair Senior Services, Inc. Transportation Program offers convenient and affordable door-to-door transportation services to Blair County residents through their fleet of thirty shared-ride vans. They provide more than 120,000 trips each year. Anyone can ride in the vans, regardless of age, and some programs help pay for transportation for certain individuals under age 60. Consumers age 60-64 are eligible for funded trips to medical appointments and federal buildings, such as the Social Security office. Consumers, age 65 and older can use the vans for any purpose, such as shopping, errands, visiting friends, and medical appointments. Pennsylvania Lottery funds pays 85% of the fare for consumers age 65 and older, while Blair Senior Services, Inc. shares part of the remaining 15% of the cost for most trips.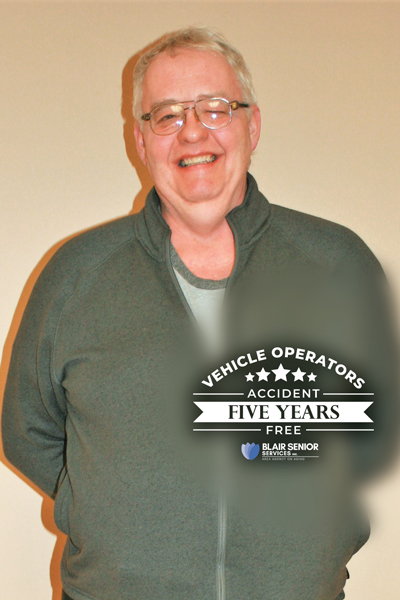 For more information contact the Blair Seniors Services, Inc. Transportation office at (814) 695-3500 or visit their website at www.blairsenior.org.