Many working adults go through their careers anxiously waiting for retirement as they prepare for days of freedom from their jobs. They fantasize about their days at home, where they have complete control over what they do day-to-day or what they're not going to do. It is a dream for many to reach this point, but what happens when retirement isn't everything you may think it is?
In reality, the number of working seniors is on the rise, and there are multitudes of people "un-retiring." Some seniors who "un-retire" lead into a career that is completely different than their previous careers. There are those who also pursue higher education or go back to further their education after coming out of retirement. Older adults who have "un-retired" have given many reasons why they have come out of retirement, with boredom being the main reason.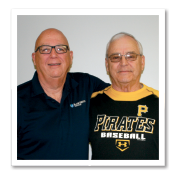 John "Jack" Butler retired in 2008 after 39 years of working as a Machinist with the railroad. He currently works as a Van Driver for Blair Senior Services, Inc. two days per week. About 4 years ago I started to go stir crazy. My wife hadn't retired yet and I was home alone all day, with no one to talk to… it got lonely and I was very bored," shared Jack. Some of the other top reasons why seniors are "un-retiring" are to supplement existing income, increase social security benefits, increase socialization, improve mental sharpness and stay active into their older adult years.
"I'm not sitting at home watching television or putting together a jigsaw puzzle," Jack said. "Driving definitely keeps me moving."
Along with driving two days per week, Jack volunteers at Bishop Guilfoyle High School as a full-time chaperone when going on trips to Pittsburgh, New York and beyond. He also volunteers at the Cathedral of the Blessed Sacrament on the Funeral Committee.
"I try to keep busy when I'm not working or volunteering. I have 11 grandkids all across the state, so with my flexible schedule it's easy to go visit them when I need to," Jack said.
Above all, Jack believes that the socialization aspect with the consumers is the best part. "I hear some great stories from our consumers," he shared. "Sometimes, though, some of our consumers just need to talk to someone, we're all they have. I know how they are feeling and I consider it my ministry here on Earth to be there for them."
Some older adults choose not to retire altogether, working directly into their retirement years. Rick "Mac" MacIntyre has worked as a Van Driver for Blair Senior Services, Inc., for 32 years. Previously, he had worked for United Service Company, a linen service that was based out of Johnstown. MacIntyre enjoys keeping busy so he can remain mentally sharp and active.
"You must keep active," Mac said. "Do something you enjoy and get out among people and socialize. Use it or you lose it."
Theresa Williams, who is 69 years old, had always dreamed of being in the healthcare industry. "I was always looking to take care of someone, even pets. I love to care for my pets and my family," Theresa stated.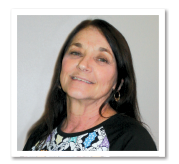 When Theresa had the opportunity to become a Certified Nurses Aid (CNA) at Hillview Healthcare and Rehabilitation Center, it was like a dream come true. Although this was an exciting moment in Theresa's life, it was challenging.
"It was very high paced with a lot of long days," she said. "My age and schedule definitely made it a challenge."
While Theresa was completing her coursework for the CNA program, she also continued to volunteer for Blair Senior Services, Inc. as a Senior Companion, helped with activities at Hillview, and assisted with breakfast and activities at Allegany Lutheran Social Ministries (ALSM). "I don't regret any of it though, I enjoy helping others and caring for them," Theresa shared.
One of the things that helped motivate Theresa through her CNA coursework was some of her other classmates. "The girls I was completing the course with were 19-23 year olds and they were just so supportive and really did motivate me through the program," Theresa said. "I am so glad to have made friendships with them. We're going to work together at Hillview."
With all of her accomplishments, Theresa never thought she would make it to this point. "I'm not going to lie, I doubted myself and I really let my age hold me back for a while. But older adults need to realize that they can do it and you can get a second chance at something you've always wanted to do," Theresa said.
Along with keeping older adults active, "un-retiring" can open new experiences and new friendships from all generations for those considering coming out of retirement. DelGrosso's Amusement Park and Laguna Splash along with Marianna's Fundraisers have a large number of older adults who work for them both seasonally at the park and year-round at Marianna's.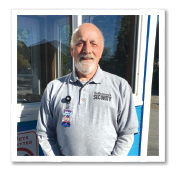 Joe Bilka, who works in the Security Department at DelGrosso's Amusement Park and Laguna Splash, is in his fourth year at the park. Joe, who is 69 years old, retired as a History Teacher from Philadelphia and decided to come back to his hometown of Altoona following his retirement. A father of three and a grandfather of seven, he is currently enrolled at Penn State University to receive his masters degree in Human Development & Psychology.
Joe, like many other "un-retired" older adults, enjoys the socialization and increased activity level benefits. "I like people and keeping busy keeps me young," Joe said.
Prior to the opening of their 2019 park season, DelGrosso's had 534 employees that were 51 and older (17% of their current workforce) with a goal of hiring 750 older adults. Their older adults like the flexible work schedule they can have working at the amusement park.
"We always try to accommodate their schedules and needs," shared Amy Mearkle, Director of Marketing. "The park is a really fun environment and our staff spans generations. The older adults like interacting with the younger staff and they become friends. They also take on the role of mentors with bonds that last a long time."
Not only does having colleagues from different generations create diversity in the workplace, it also benefits each employee differently. According to an AARP online survey, older workers appreciate younger workers for their technology skills, new perspectives and creativity; whereas younger workers appreciate older workers for their wisdom and experience in navigating the workplace.

Bruce Beck, who is in his sixth season with DelGrosso's Amusement Park and Laguna Splash, is a retired dairy farmer from Sinking Valley.
Bruce, being 59 years old, got restless at home after retirement and needed a change of pace.
"I got tired of sitting at home and doing nothing when I retired," Bruce said.
Along with keeping busy, Bruce enjoys the connections that DelGrosso's has provided for him.
"The friends I have made here at work are awesome," Bruce shared. "I really enjoy being here."
Positions available at DelGrosso's and Marianna's include: games, first aid, lifeguards, clean-up, ticket sales, maintenance, cash office, gift shop/retail, mascot character, food service, information booth, logistics/warehouse, customer service, security/parking and rides. In addition to competitive wages for new and returning staff, they offer flexible scheduling, employee referral program and discounts, reciprocal ride passes to select Pennsylvania amusement parks, and training.
Many of Marianna's older adult workers enjoy their flexible schedule; employees work five-hour shifts, five days per week beginning at 6 a.m. or 7 a.m. and complete their shifts at 11 a.m. or noon.
"We've found a lot of the older adults like getting up early and finishing work with time left in the day to spend with family and friends," said Amy.
To find job postings and apply, go to their website at www.delgrossos.com and follow the directions. You may apply for more than one job. If you have questions about or need assistance with the application process, you can contact their Human Resources Department at 814-684-5880.
To find volunteer and employment opportunities at Blair Senior Services, Inc., visit www.blairsenior.org or call 814-946-1235.